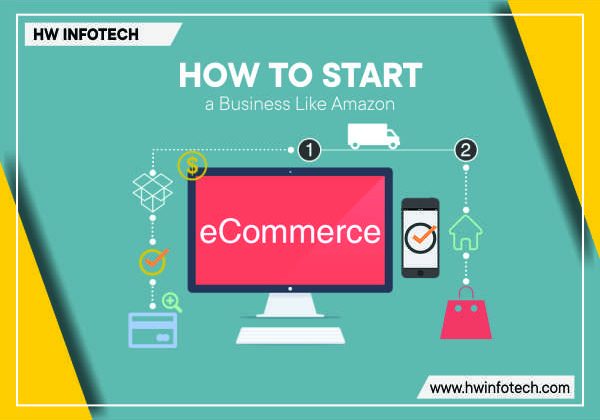 How To Start A Business And Company Like Amazon | How To Make A Company Like Amazon
How to Create a eCommerce Website Like Amazon: Tips, Challenges, Cost | Hwinfotech Blog
Wondering how to create a website like Amazon? Dive in to see a complete overview of Amazon business model, platform functionality, and practical steps to get started!
How to Build an eCommerce Website like Amazon
6 Powerful Growth Hacking Ways to Start Your E-Commerce Business and Grow Like Amazon  
To start an E-Commerce store you need to focus on a few things that include the potential customer for your product, choosing the best E-Commerce website, and the inclusion of features and functionalities that will run your online business. Mostly, business houses want to build something on the lines of the E-Commerce giant Amazon that not only displays the products from other sellers but also renders packaging and shipping services.
According to Statista, the net sale of Amazon is nearly 232 billion US Dollars. The E-Commerce platform has generated revenue from the sales of electronic goods and other popular brands. So, if you are thinking of developing a business like the E-Commerce giant, then start with a good website or find the companies that provide clone scripts, or choose a developer just for customizing a few changes.
By entering into the online business, the sellers need to focus on many things that are going to drive more sales and provide profit to their business.
How To Start E-commerce Business Like Amazon And Flipkart In India.
Amazon Marketplace Value Proposition, Strategy, and Business Model
Here are some of the important steps you need to acknowledge.
Using the Readymade Scripts
The readymade scripts will lessen the time to strike the market. Otherwise, you have to spend on building a website like the E-Commerce giant. You can purchase the clone script for Amazon, Alibaba Clone from the reputed e-commerce development company like HW Infotech to start your online business instantly. The benefits of buying the readymade scripts are:
These are inexpensive
The sellers can get it customized with fewer changes
It is pre-designed with no requirement for doing coding
The launch of your store can be done immediately
The businesses that want to start a platform like Amazon can use these scripts without any hassle. These scripts are inspired by these giant platforms and possess the same design, interface, philosophy, and feel of the E-Commerce store. You just have to buy the script, install it, configure it according to your E-Commerce needs, upload the product and consumer information, and go live.
Setting up Your own E-Commerce Store
The sellers who want to set up an E-Commerce market place software on the lines of Amazon must set up their own platform. They can use the popular development tools like WooCommerce, Shopify, or WordPress. Even if you do not possess any knowledge upon designing a website or coding, then also you can start the online store with step-by-step instructions. Most of these platforms possess in-built features and functionalities. You can even update it to the latest version and add plug-ins too.  Moreover, they also render seamless navigation facility, logistics, payment gateway, the addition of more products, deals and offers, and writing blogs, etc.
Watch out for the Saleable Products
You need to identify the products that are sale-able and are in trend nowadays. You just cannot place every product line on your e-store and watch the inventory go out slowly. Amazon has a list of top-selling products that goes from electronics to books to clothing, shoes and jewelry and much more. The vendors can check out these products and carve out their preferences accordingly. The trending products that the marketers can choose are the digital or educational products for selling them on their online platform. You can even spot the products from Amazon Best Sellers to find hot-selling products for driving sales.
Implementing the Right Market Strategy
If you are creating your online stores based on Amazon marketplace or on the lines of Amazon business, then for carrying out B2C or B2B marketing you have to implement the right marketing strategy. It can be creating awareness about your store through Social Media Marketing, Digital Marketing, E-Mail marketing, SEO services, etc. According to a survey, there are nearly 3.196 billion social media users globally. The rate of these users is stated to grow 13% year-on-year.
By using these marketing policies, you can leverage your online store in a better way. Most of the sellers can start by making their social media profiles or writing blogs if they do not have huge investments initially. This will help in driving organic traffic to your site and increasing sales.
Creating a Scalable Business Plan
The online sellers must have the right business plan for their E-Commerce store. To possess a right plan will help you in considering the loopholes, identifying the problems, and setting up the milestones for your business. The concrete business plan for your online store will help you to acknowledge whether you are scaling up or going down. The vendors with a well-knit E-Commerce business plan are set to succeed and the ones just starting a business in haste will not be able to thrive in the online market.
Measuring the Significant Data
If you are planning to set up the E-Commerce business store online, then it is mandatory to know the data analytics that will support in driving results. You must have the Key Performance Indicators or KPI to measure your results. It can consist of the sales, attracting organic traffic to your website, unsold stock lying at the end of the month, strategies to increase sales, etc.
How Much Does It Cost to Build a Website Like Amazon?
There are KPIs that are vital for your online business that includes the cost spend to acquire newer customers, the value of a customer for your business, the profit margin that comprises of sales made over and above the real cost of the product, and so on. These KPIs will help in the growth and development of your E-Commerce business.
Conclusion
The businesses may face many bumps when they look forward to opening their E-Commerce store on the lines of Amazon. However, the consistent efforts and grabbing the right opportunities can take you a long way. Even you can take the web design and development services from HW Infotech, who have 10+ years of experience in developing clone script for Amazon, and Alibaba. With our app cloner websites, the businesses can set up their online store instantly and earn a great amount of profit.
Why choose HWinfotech for Amazon Portal PHP script website?
HWinfotech is one of the biggest Amazon portal website PHP clone script provider of the market where you can get 500+ clone scripts. The best thing about HWinfotech is that we have the best developing team for customizing your product as per your requirements. This company is a one-stop solution for all of the problems like web development service, web designing service, digital marketing services, mobile application development services. I would strongly recommend you to send the demo request or you can chat with our representative on the website of HWinfotech so that you can understand how a legitimate company works for their valuable clients.