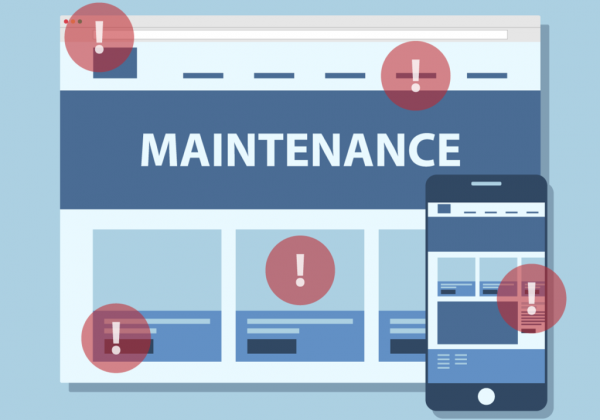 A website is the face of a business on the internet. The better your online presence, the more traffic your website will receive. Customers will only stay and keep coming to your website if it is up to date and looks professional. Keeping your website well maintained and functioning properly is vital to avoid losing customers and revenue. Therefore, testing and maintenance of website is very important. This is website maintenance. In simpler words, website maintenance means scanning your website for any issues or bugs and keeps updating it regularly. Testing and maintenance of website are the two basic principles of website maintenance.
Why Website Maintenance is Important?
Business Image
As said before, a website is the face of your business. If your website is ill-maintained and not up to date, it will reflect poorly on your business. So if you want to portray your business as competent and professional, regularly maintaining your website is a must.
SEO
Secondly, regular website maintenance is necessary for a good SEO strategy. Google bots analyze your website for relevant keywords and look for errors. Update your website with new keywords, news, and articles to stay up to date.. If Google bots find a lot of errors in your website, your SEO rankings will decrease and your website might get buried among the thousands of poorly made and ill-maintained websites.
Customer Engagement
Thirdly, most businesses compete on the basis of customer engagement. Impressing your customers is key to making them stay and choose your business and also increasing your revenue. If a user lands on your website and finds a poorly designed, error-filled interface with irrelevant information, he/she might not want to spend any more time exploring the website. To gain user attention, a regularly maintained website is absolutely necessary.
Security
Further, hackers target websites that have been dormant for too long. If your websites carry and store user information, it is very important to maintain it regularly with software updates and patches. Letting your customer data be breached can be a fatal mistake that will tarnish their trust in your business forever.
Staying Relevant and Up to Date
Lastly, new designs and functions which are regularly being updated keeping in mind the market trends can be really helpful to keep your website relevant. An ill-updated website will make you lose customers.
How to Maintain a Website
There are various website maintenance duties to be done yearly, quarterly, monthly and weekly to keep a website up to date. Website maintenance includes:
Annual Maintenance
Domain name renewal.
Update the website design.
Update your best-performing content, articles, blogs.
Review pages for any grammatical errors.
Quarterly Maintenance
Update graphics and photos.
Try to improve your website structure.
Update pop-ups and forms.
Check backup health
Check SEO titles to see if they are up to date.
Monthly Maintenance
Check the loading speed of your website.
Complete website statistics analysis.
Analyze security scans.
Update articles.
Weekly Maintenance
Check your website for any broken links.
Redirect and fix any 404 errors.
Update software and plugin.
Write at least one blog or article to keep your user's sufficiently engaged.
What Are Website Maintenance Services?
Although there are tips online for website maintenance for beginners, website maintenance services will help you by doing the aforementioned tasks for you efficiently and professionally. Above all, it is a much more cost-effective option. The Website maintenance cost on average is about 20,000 rupees per annum. Therefore, by hiring a team of experts to do these tasks for you, you can focus on your business.