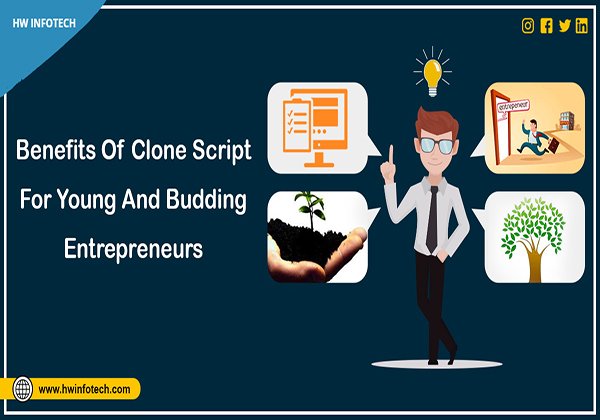 Is An Clone Script A Successful Business For Entrepreneurs?
Hwinfotech offers a clone script of On-Demand Mobile applications that replicate the functionality of today's most popular mobile apps. We deliver full ready made clone scripts, customized to your needs, quickly and reliably.
There are many online product based portals like Amazon,  Shopclues, Flipkarta and service based online portal like Ola, Uber, Foodpanda and so on. It doensn't  matter what kind of portal people are using , every single  person wants to earn huge money through this type of online business.
Most of the new and budding entrepreneurs are looking to launch a similar business with almost similar concepts while focusing on their own niche and also trying to earn some money hassle-free, after analyzing the success of these business models.
One of the most important reason is, people prefer website cloning because they get the exact same look and functionality that would assist them to set up their own online business.
Advantages Of Using A Website Clone Script For Our Online Business – Get PHP Clone Scripts
Tested and successful business and revenue model –
While having their revenue models integrated into the script, most of the business models of the popular website have been already cloned. You will have an advantage of having popular features of these websites into your website. In these clones, most of their unique features and successful elements will be embedded
As per your niche and requirement, you will be able to build a successful and robust clone of a popular website.
It doesn't take too much time to build a clone –
You just have to customize some essential things, since most of the clone script is readily available. In a very short span of time, you can have your entire website set up & running.
It takes only 48 hours of the time period to deliver and install the script on your server, with the help of reputed clone service provider.
Reduces the time spent on research and strategy development –
In order to build your brand new website, you don't have to waste too much time on market research, business planning or analyzing various strategy implementation for UID (User interface design).  You just to have to invest your time in what type of website and niche you are going to working on. That's all that matters.
Comes with rich features and modules –
As per the requirement of the entrepreneur, clone scripts are well built with all the needed features and modules to smoothly run your website. The job of an entrepreneur is to choose the right clone script with rich features
Clone scripts are future ready –
That is, good website clone scripts are scalable. When your business grows it is very important that your service is capable of handling the load.
Bug Free Scripts
The readymade clone scripts are already tested with all the major platforms and completed with all types of testing that make it as a bug free.
Low Development Cost
A clone script costs much less compared to a web development from scratch
Focusing your website cloning efforts towards a particular niche will give you more scope. This will make you unique to the particular region and niche.
Website Clone is developed using latest web-technologies like PHP, HTML, CSS, JQuery, MySQL. These technologies help Website Clone scripts to compete with all the technological changes that are happening on a daily basis.
HW Infotech is a leading web development company, providing you the complete website clone solutions where you will get all the essential and desired work done for your business and promotion.
HW Infotech is a pioneer in creating website clone scripts. Companies are now reaping the benefits of powerful PHP clone scripts developed by HW Infotech, after years of hard work and meticulous research.
Why choose HWinfotech for PHP Clone script website?
HWinfotech is one of the biggest website PHP clone script provider of the market where you can get 500+ clone scripts. The best thing about HWinfotech is that we have the best developing team for customizing your product as per your requirements. This company is a one-stop solution for all of the problems like web development service, web designing service, digital marketing services, mobile application development services. I would strongly recommend you to send the demo request or you can chat with our representative on the website of HWinfotech so that you can understand how a legitimate company works for their valuable clients.
More information can be found on company's website. https://www.hwinfotech.com/. You can also reach us at info@hwinfotech.com